We may earn money or products from the companies mentioned in this post.
3/20/19 — Hey Mama! Before you keep reading, I wanted to pop in and tell you that I have a new FREEBIE that is pretty incredible. If you are struggling to keep up, if you want to be more productive, or if you are feeling stuck in a rut, grab my SAHM schedule! This is the exact schedule that I follow to enjoy my life rather than cleaning up after it-all preloaded into a Trello board for your convenience! Grab it here!
How To Overcome Feeling Overwhelmed by Prioritizing Your To-Do List
Are you squandering your time without meaning to? When it comes down to it, time is a precious commodity. It's the one thing we waste that we can't get more of.
But the question is, are you making the most of it? Are you moving in the direction that will lead to your dream life, or are you stuck with "not enough time" for yourself and constantly overwhelmed? It can be so easy to get stuck in the flow of things that suddenly you feel like you are going nowhere. Those dreams and desires that you had are nowhere in dight. But how can you possibly make time for them when you already feel like you are at full capacity?
Well, the thing is, everybody has the same 24 hours a day. The difference between success and settling comes down to pushing outside of your comfort zone, and learning how to use the time that you have.
Learning to prioritize tasks that will help you reach your long-term goals is a really important part of reaching success. It is also really difficult when you are a busy mom that has a task list a mile long, right?!
Today, I want to show you how I juggle mom life, side hustles, blogging, home projects, and more by streamlining my duties so that I can focus on what matters most, first. Mastering this is the first step to creating a life full of fulfillment, happiness, and success!
RELATED: HOW TO WAKE UP EVEN WHEN YOU ARE EXHAUSTED
Reassess Your To-Do List
Firstly, stop thinking that you can do it all! I understand how difficult it can be to juggle expectations, mom guilt, and even your own internal battles about what is most important. If you feel overwhelmed by all of the tasks on your plate, here's some tough love: something has gotta give! It might be time for you to take a step back and realistically asses where your efforts need to go.
Consider what you really want out of life. What is actually important, and how can it become a priority?
Write a bucket list, or if that feels hard, write an anti-bucket list. At the end of your life, what do you not want to be? What will you regret if you don't make changes now?
As crazy as it seems, fear plays two very important roles in this. Most people are terrified to not reach their full potential someday. They are afraid of what it will look like when they get old and remember their life. Yet, most are also afraid to do anything about it. Getting outside of their comfort zone is hard, so they settle. Most people never break out of this, and they are stuck in the life that was comfortable.
I don't know about you, but I don't want to be stuck in comfortable! I want to live an exhilarating life full of adventure, excitement, and create amazing memories. Those things don't come from being comfortable. They come from getting out there and doing things!
This is why prioritizing tasks is so important. If you can't get a hold on the mundane parts of life that dictate the basics like cleaning and cooking, you will never have the time, energy, or motivation to actually live your life. You will get stuck in a rut where days blend into weeks, then months, and you look back wondering what happened.
So how can you break free? It just takes a couple of steps.
1. Eliminate Unimportant Tasks on Your To-Do List
If you are drowning in a massive to-do list, you definitely need a plan. A good place to start is to create a stop-doing list. This is a list of the things that you spend time on that aren't helping you reach your goals. These can be everyday tasks or obligations that you would rather not spend time on.
To figure out your list, sit down and do a brain dump, preferably as a couple so that everybody is on the same page. I like to do this once a week, but I would recommend every other week at the least. (Our session usually consists of me following Chris around while I write stuff down. Just make it happen!)
List out everything big and small that you take care of on a regular basis. Include phone calls, projects, appointments, volunteering, everything. When you can't think of anything else, take a highlighter or colored marker and start going through the list.
While you go through the list, think about the potential return on investment, and the actual return on investment for every activity you do. The investment and return that I'm talking about can be anything: money, energy & time, emotional investment, or even resources. Consider what exactly the task is requiring from you and whether it is worth what you put into it.
Don't be afraid to put your wants and needs before others on occasion! Sometimes it's worth volunteering and showing up, but if you aren't finding joy in the task, consider your motivation and let go of what doesn't bring you joy.
Also, ask yourself whether you are making a task harder than it needs to be. Sometimes tasks can be simplified or even completely eliminated with a few tweaks. That leads me to step number two: streamline.
2. Set Up Systems
Consider setting up systems for anything that is taking up a lot of time.
In my case, when I first started my journey, I was struggling to keep my house clean. I spent hours a day doing laundry and dishes, and the house was always scattered with toys and other junk. It made me frustrated at my kids rather than enjoying that I was home with them.
Then when Chris would get home I'd feel defensive because I hadn't "done my job", whether he said anything about it or not-which he usually didn't. It continued this way for a while until I realized how simple it would be to fix it.
My very first step was to get a handle on our stuff. I started to clear the clutter so that my life would require less maintenance. Then I started getting into good habits and routines so that I was maintaining it all on auto-pilot rather than spending hours a day trying to keep up. Here are a few of my posts that talk about exactly how I did it. Maybe they can help you too:
No Folding Laundry: How to Organize To Make Laundry Easier
Five Mindset Changes To Help Keep Your Home Clean and Tidy
Team Power Clean: How To Clean With Kids
6 Steps To Organize Your Kids Toys Once and For All
How to Overcome Overwhelm When Decluttering: My Mindset Secrets
Once you have gotten your mundane to-do list under control, you will notice that everything runs a bit more smoothly. Sure, your days are still going to be full. You will have responsibilities and the dishes will still need to be washed. But as you go on, it will become easier. You will start to notice free time in your days. All of a sudden, there will be time to start thinking about the big picture.
Start Living Your Dream Life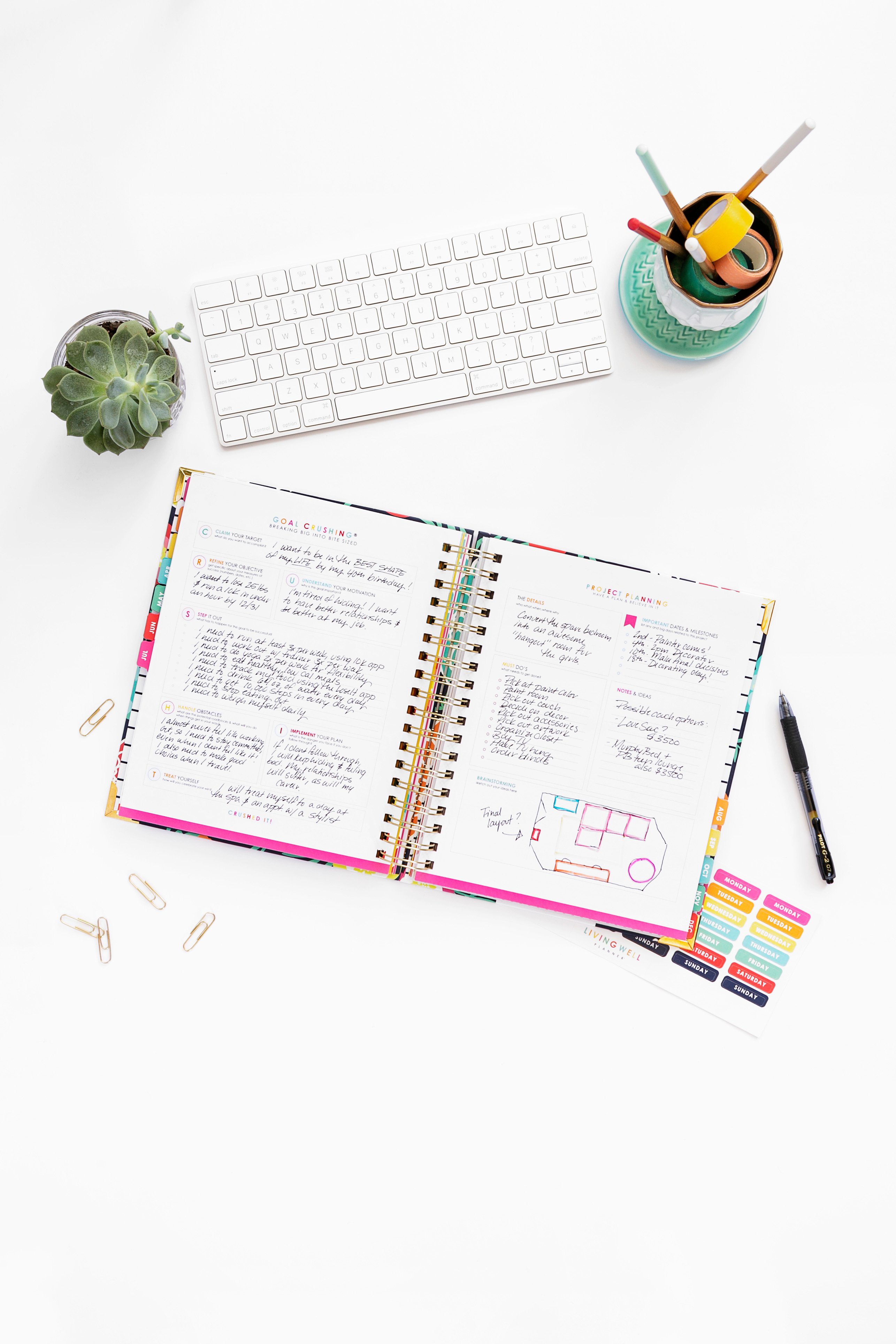 When you reach the point where things are flowing, take advantage of it! I highly recommend using a planner to keep your priorities in line. I wasn't much of a believer until I actually found a planner that works! My favorite paper planner is The Living Well Planner. It will help you to stay on top of your goals, finances, work, and home life all in one place. It has changed so many lives! I have no doubt that it would be an essential tool for you.
What is even more incredible is that the creator of the planner actually created an entire website to help you crush your goals. She walks you step by step through the process of identifying your goals and planning how to reach them. Check it out here if you would like to learn more.
Overall, no matter what you decide to do, I want you to live your life to the fullest. Dream, and then chase those dreams. Provide for your family, and your friends, but then circle back around and also provide for yourself. You are in control of your life, so take the reigns. Figure out how to keep all of the wheels spinning and then go after your dream life. You deserve it!
Make sure to save this article to your favorite Time Management board on Pinterest so that you can find it later!